Student Tech Services (STS) provides free tech support to 
all

 graduate and undergraduate students at UC Berkeley, paid for in part by your Student Tech Fee each semester.

We can assist with:
Resolving WiFi problems and getting online
Installing and optimizing free campus software (incl. Adobe, Matlab, Microsoft, and Zoom)
Troubleshooting device issues, e.g. blue screens, slow performance, data recovery, etc.
Setting up CalNet 2-Step, removing malware, and ensuring security
Locating campus resources for printing, laptop lending, creative labs, and much more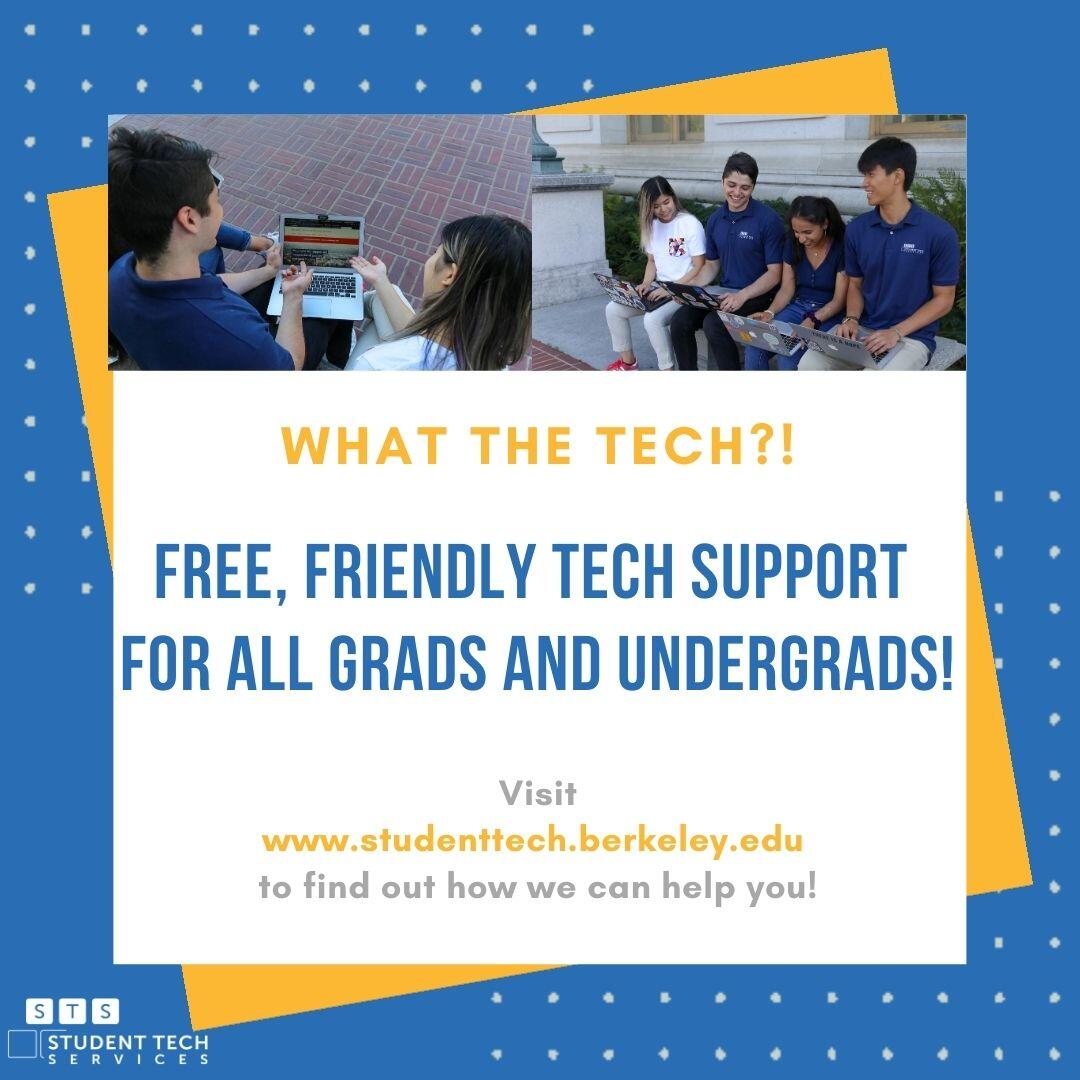 Spring 2021 Helpdesk Hours
Sun 1/17/21 through Fri 5/14/21
Please be advised that we are seeing higher-than-usual volume on Zoom sessions and phone calls. As a result, we have increased our staffing so that we can do our best to serve all callers.  If you prefer not to wait on Zoom/phone, please email us at sts-help@berkeley.edu which will allow us to follow-up with you later. We appreciate your patience with us.
MON

TUE

WED

THU

FRI

SAT

SUN

ZOOM
Join here

9am-5pm

9am-5pm

9am-5pm

9am-5pm
9am-5pm
--
--

PHONE
510-642-HELP

9am-5pm

9am-5pm

9am-5pm

9am-5pm
9am-5pm
9am-5pm
9am-5pm

9am-5pm

9am-5pm

9am-5pm

9am-5pm
9am-5pm
--
--



No services on campus holidays

1/18, 2/15

3/26