Get Online
Choose from campus provided Wi-Fi options


We recommend that students connect to the AirBears2 network: a secure network requiring authentication available throughout campus and in campus housing (except in University Village where Wi-Fi is only provided in common areas).
To use campus resources (like digital library resources), students must have a secure connection to the campus network, including AirBears2 and eduroam connections.
To use AirBears2, you must have a valid CalNet ID and create an AirBears2 key. Go to technology.berkeley.edu/wi-fi to learn how to create your key and for additional information about AirBears2. 
Students can create the AirBears2 passkey before coming to campus to connect right away.
If you have any questions or run into any problems creating your AirBears2 key, send us an email at sts-help@berkeley.edu or give us a call at (510)642-HELP. 

CalVisitor provides basic network access for visitors to campus who do not have a CalNet ID. CalVisitor is less secure than AirBears2 and does not encrypt wireless traffic. Some campus resources may not be accessible while connected with CalVisitor.

Eduroam provides network access at participating institutions world-wide. When visiting a participating institution, UC Berkeley students who have configured their device to use eduroam can automatically connect to that institution's network.
NOTE: An Airbears2 key is required for eduroam use.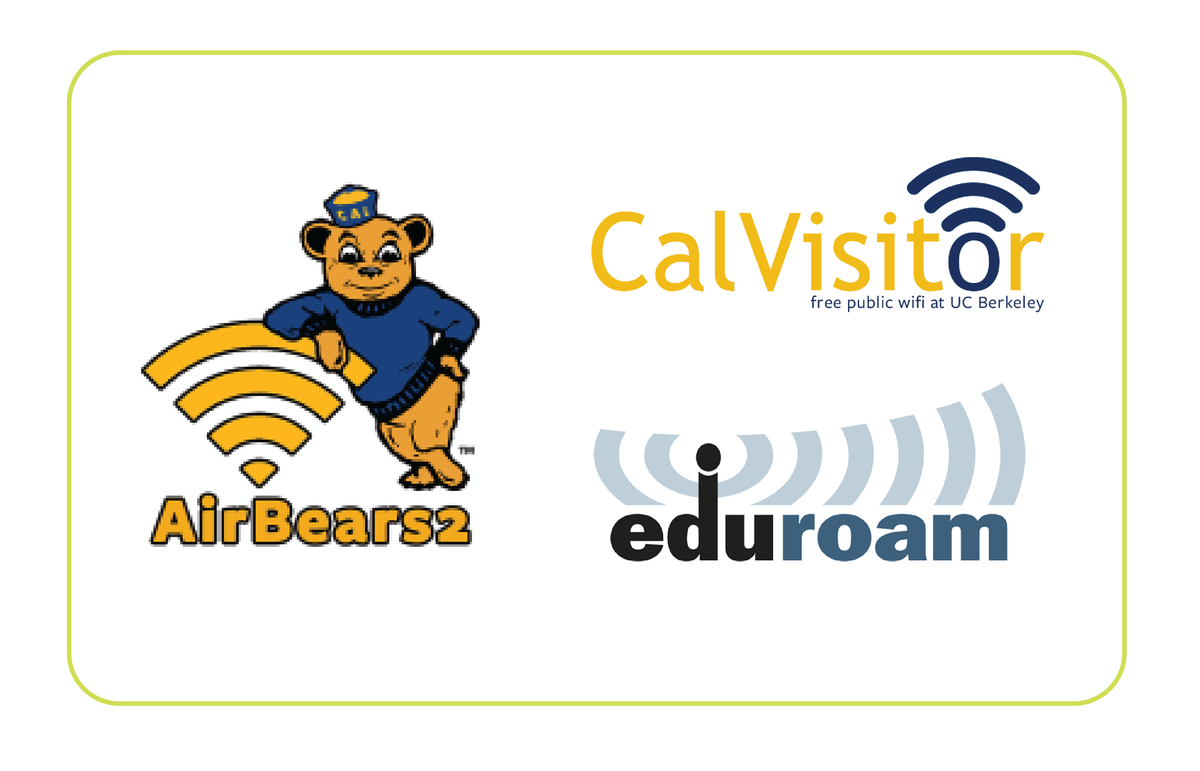 Personal Wireless Routers & Wired Internet Connections
Wireless Routers
Personal wireless routers are not permitted where Wi-Fi is already provided. Their signals can cause interference and degrade network connectivity. 
Because Wi-Fi is not provided in University Village, only UVA residents are permitted to set up their own Wi-Fi using a personal router.
See setting up a wireless router and our Wi-Fi FAQ for more information.
Wired Internet Connections
Beginning August 19, 2019, Ethernet (wired) network ports will be disabled in housing units (except UVA and CKC Building 19 and 20). If your device or location does not support AirBears2/Eduroam, you may submit a request to activate a port in your unit by calling the helpdesk 510-642-HELP (4357) or emailing us at sts-help@berkeley.edu. Requests can take up to 5-10 business days, depending on request volume.
Here are some quick tips to stay safe while online:
Set a strong password
Install antivirus 
Activate your firewall
Enable automatic updates
Make sure your operating system is up-to-date
Enroll in CalNet 2-Step Verification for added security
Review our security page for even more tips on getting and staying secure.
University Village residents with personal routers: Because information sent over personal wireless networks is vulnerable to being compromised, we strongly recommend consulting with Student Technology Services about wireless security. We can answer your questions and help you set up your network in-person, over the phone, or by email.