Tips for When You Move-in to UVA
How to set up my TV
You may register multiple devices to your Xfinity but only one device is allowed for simultaneous streaming. When multiple residents are living in one apartment, only the resident whose name is on the lease has access to Xfinity. Follow these steps for set-up:
Go to xfinityoncampus.com
Enter University of California, Berkeley in the search field
Log in using your CalNet credentials
Look under account > subscriptions to see if your access has been activated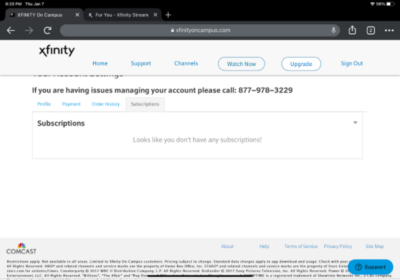 Activating Xfinity Stream App & List of Compatible Devices
See Xfinity Knowledge Base articles for instructions and list of compatible devices:
Android & Apple iOS

Download the Xfinity Stream app from your device's app store
Non-compatible devices
Amazon Fire TV devices running Android 4.0 or older
Android TV
Apple TV
Apple Watch
Nook devices
Windows tablets and phones
Other devices not specifically mentioned
Commonly Asked Questions
Can I connect more than one device simultaneously?
Yes, but students using Xfinity On Campus can only stream on one device at a time. If you watch a downloaded show, it doesn't count as an active device. 
We have two UCB students in my household. Do we each get an Xfinity account?
No, only the primary student on lease will have access. Xfinity access will discontinue after the lease is over,
I was able to access Xfinity after I terminated my lease for a period of time but now I have lost access.
It takes some time for Xfinity to register that your lease is over, but once your access is terminated you will have to purchase a plan to continue using Xfinity. See https://www.xfinity.com/student

(link is external)

 for discounted rates for students.
I'm the primary student and want my family to be able to watch Xfinity when I'm not available to authenticate.
Your authentication is saved after initial setup on your Smart TVs and re-authentication is not needed unless you have manually logged out of the application.
My streaming cuts off regularly. What can I do?
Make sure your device and the app are up to date
Try uninstalling and then reinstalling the app
Position 

your device closer to the aruba AP or use a wired connection for the most reliable connection
How do I get technical support?
Connecting to the Internet
For ease of use, we recommend residents attempt to connect their devices to one of the two campus WiFi options (eduroam or Berkeley-IoT). If you run into signal strength issues, due to outside interference, or if you have any devices that have a critical role in your home, you may wish to set them up via a wired connection.
Connecting via WiFi: eduroam vs. Berkeley-IoT 
You will want to select the best network, depending on the type of device. Some devices are not supported on the campus network.
Eduroam

Berkeley-IoT

Laptop

Desktop

Cell phone

Tablet

Most other devices that support WPA2 enterprise authentication

Smart TV

Streaming hub (e.g. Roku, Amazon Fire, etc.)

Gaming consoles

Most other devices that do not work on Eduroam (see Unsupported Devices below for exceptions)
Unsupported Devices
The following devices will not be able to connect to either of the campus networks:
Network printers

Network attached storage

Network cameras

Smart lights

Personal assistants (e.g. Alexa, Google Home, etc.)

Any other device that requires inter-device connectivity for setup and/or operation

Personal routers (see note below)

Internet modems, router/modem combos, and WiFi mesh systems are also not supported
Note on personal routers:
Effective July 1, 2023, personal routers will no longer be supported. Student Technology Services will no longer provide support in the event the personal router stops working.

Effective July 1, 2024, use of personal routers will no longer be permitted at UVA, as is the case in all other campus housing. Residents who continue to use a personal router after this date may be notified to shut off the wireless broadcast or risk having the router blocked from usage on the campus network.
How to connect to the eduroam network
Device registration is NOT required for eduroam. All devices use the same WiFi key for all your devices.
Only devices that support WPA2 Enterprise authentication can connect to Eduroam (see list above). Other devices will need to use the Berkeley-IoT network.
See here for step-by-step instructions for connecting to eduroam.
How to connect to the Berkeley-IoT network
Register your device's WiFi MAC address by visiting wifi-keys.berkeley.edu

Save the password assigned to your device in a secure location (each device on Berkeley-IoT will get its own password)

(For gaming consoles only) Before connecting your device to Berkeley IoT:

Go back to wifi-keys.berkeley.edu

Find your registered IoT device

Click Edit

Check the box next to "Public IP?"

Click Save Changes

Find the Berkeley-IoT network on your device and connect using its assigned password
Connecting via a wired connection (ethernet cable)
Equipment needed to get started
An ethernet cable

Ethernet adapter (if your device does not have an ethernet port)
Registering your device for a wired connection
Register your device's ethernet MAC address by visiting socreg.berkeley.eduNote: you must be connected to the campus VPN via Global Protect, or using Eduroam or a working wired connection in order to access socreg.berkeley.edu

Click "My Assets"> "New Device" and input your device's Ethernet MAC address

You may need to wait up to 15 minutes for a connection to work

If you run into problems after waiting 15 minutes, check the following

Make sure you're plugged into one of the available ports on the Aruba AP

Make sure DHCP is enabled for your device's ethernet adapter

Disable your device's WiFi adapter and/or make sure it is not connecting to any nearby WiFi networks

Have any questions? Call the Student Tech Helpdesk at 510-642-HELP