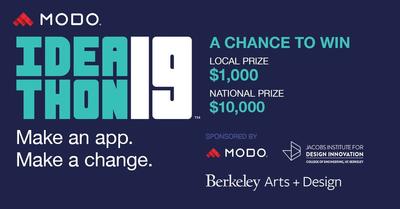 UC Berkeley's Modo Ideathon will be taking place on April 5 and 6! This weekend long event gathers students with from all different backgrounds and coding skill levels to create an app using the Modo platform. Students will identify key issues taking place on Berkeley's campus related to student life, while providing and creating a solution to one of the issues in the form of an app. Modo Ideathon welcomes non-STEM students so this is a great opportunity for students of all backgrounds to expand their technical skills!
The Modo Ideathon also offers a chance to win a local cash prize for participants $1,000! The app that wins first place will also be submitted into a national competition with other universities competing for $10,000!
Hosted by Berkeley Arts + Design, the Campus Mobile Committee, Public Affairs, and the Jacobs Institute for Design Innovation.