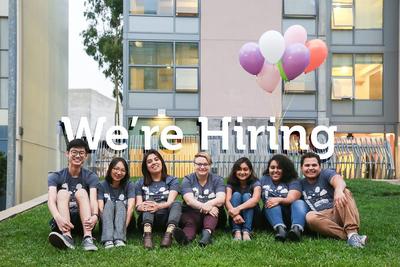 Are you looking for a flexible job that offers fair wages, a welcoming team environment, and tangible opportunities for professional development? 
Look no further, UC Berkeley Student Technology Services is hiring in over ten career fields/teams for the Fall 2019 semester!
We have a variety of positions available that range from customer support to technology support. We encourage students with varying levels of job experience to apply. Every new hire will undergo an extensive job training that will help in making you feel confident and prepared to start the job, no matter what!
STS provides a refreshing, collaborative space where students are comfortable asking questions, helping one another, and learning together as a unit. We understand that tech jobs can seem intimidating sometimes, especially for students who are newly entering the world of tech. Have no fear!! STS prioritizes team building and bonding events that are sure to help you build genuine, personal connections with your colleagues. These events include: holiday parties, alumni networking, movie nights and more!
Applications for our Student Leads, Unit Supervisors, Desktop Engineers, Information Security Analysts, Network Engineering Assistants, and Windows System Administrators will open on Monday, February 11th, 2019.
Applications for our Business Services, Outreach & Engagement, and Student Computing @ Cal positions, as well as Software Developers, Unix Operations Engineers, Desktop Consultants, and Student Technology Consultants will open on Friday, March 1st 2019.
More information on our open positions can be found here.
Please follow our Facebook, Instagram, and Twitter for more hiring updates and information.
We look forward to making new additions to the STS family!