Protect Your Devices
Malware is malicious software that hinders your computer's performance and may be installed without your knowledge. Spyware is a type of malware that is used to siphon personal information from your computer.
Download anti-malware software to prevent, detect, and remove malicious software at www.avast.com.
How to Protect Your Computer and Mobile Devices
1. Set a Strong Password
Use a long password of at least 9 characters or more, containing a mix of different character types - upper and lower case letters, numbers, punctuation marks, etc. 
2. Lock your devices
Make sure you set your device to lock automatically after a few minutes of idle time, and lock it manually when you set your device down. 
3. Admin Accounts
Only use admin accounts for activities that require admin rights. If you are using an admin account for day-to-day use, create a separate admin account and change the account you normally use into a standard user. 
4. Encrypt your device 
This will make it harder to access your personal information in the unfortunate event of theft. Remember that encryption only helps you if your device is locked.
iOS: All iOS devices are already encrypted.
Android: Make sure to have a password set. Then go to Settings 

→

Security

→

Encrypt Phone/Device.
5. Install Antivirus
Download antivirus on your computer and mobile device (phones can get viruses, too!). Lookout and avast are both good options to protect against malware and other online threats, and are available for free. You can download these antivirus softwares on your phone through an app on the Google Play Store or App store.
Useful Reminders to Keep Your Devices Safe
Back up your data regularly
If the data on your device contains confidential or sensitive information, be sure to choose a solution that you trust to store your data securely.
iOS: iOS Devices can be backed up using either iCloud or by connecting your device to a computer and using iTunes. Go here

(link is external)

 for more information on backing up and restoring your data.
Android: In the Google Play Store, there are several apps available for backing up your device, including Carbon, Helium Premium, G Cloud Backup, or MyBackup Pro. You can find more information on how to back up your Android device here

(link is external)

.
Wipe your phone's data before switching devices
If you are upgrading your phone or mobile device, make sure you completely erase its data before donating, exchanging, or disposing of it (back it up first!).
iOS: iOS Devices can be reset to factory settings by going to Settings 

→

General 

→

Reset, and then choose Erase All Content and Settings
Android: Android Devices can be reset to factory settings by going to Settings 

→

Accounts 

→

Backup and Reset → Factory Data Reset.
Never leave your device unattended
Device theft is a serious problem around UC Berkeley, so never leave your valuables unattended! Set your devices to lock automatically to prevent unauthorized access to your data.
If you need assistance protecting your device, contact us at (510) 642-HELP or email sts-help.berkeley.edu!
How to Activate Your Firewall
One of the campus security requirements(link is external) is to maintain an active firewall on all of your devices. A personal firewall protects your computer from potentially unwanted and harmful network traffic that can exploit security holes on your computer. More recent operating systems (Windows 7 and 8, and Mac OS X 10.6 or higher) have built-in firewall protection, but you still need to make sure that it is activated.
The guide below will show you how to manage your firewall and ensure that it's working for you!
Windows 7, 8, and 10
Open Windows Firewall
Go to Search and type in "Control Panel". Then go to System and Security -> Windows Firewall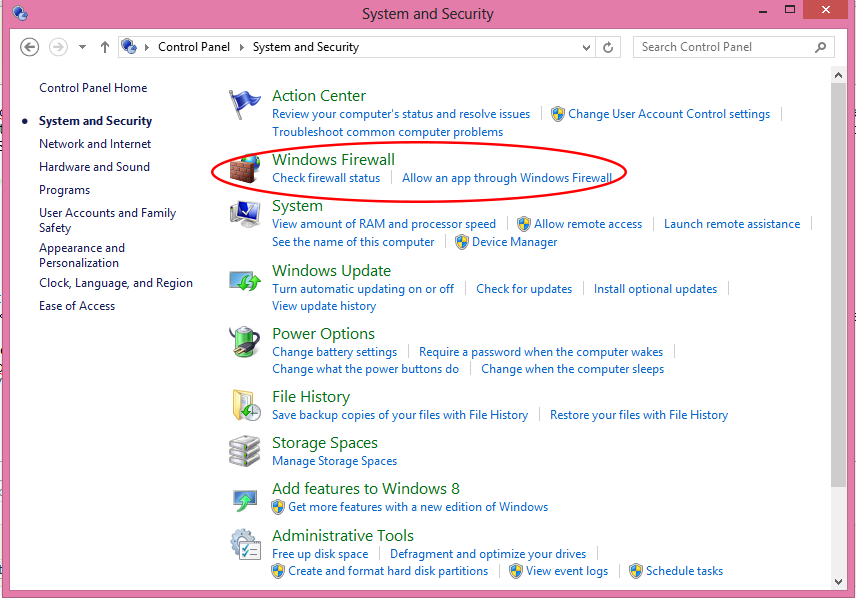 Turn Windows Firewall on and off by clicking the option on the left pane. The Firewall should be on by default.
Manage 
Sites and incoming/outgoing connections
Click Allow an app or feature through Windows Firewall on the left pane. You will be taken to a new menu with a list of applications and how they are permitted to communicate on the network.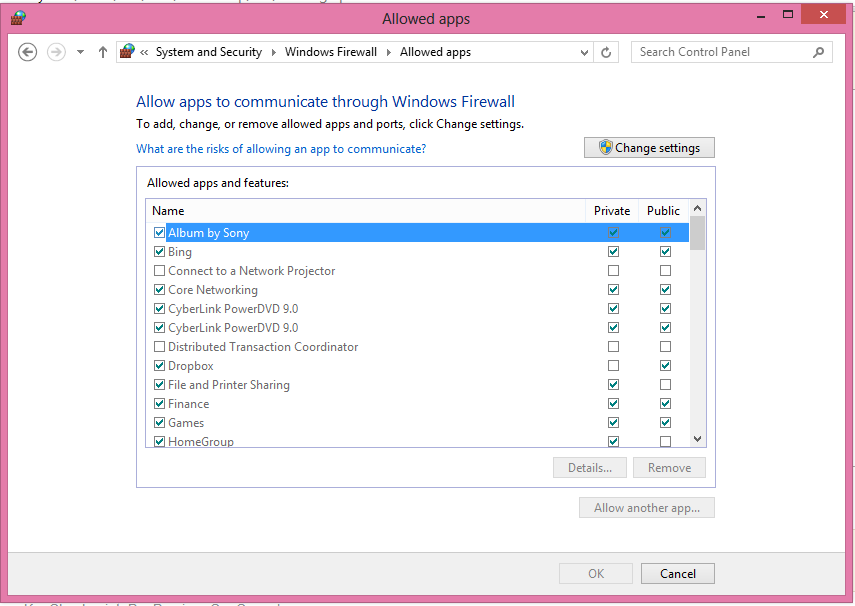 Click Change settings to change whether an app may be allows to communicate on Public or Private networks.
You may also choose to Allow another app or Remove an app from the list.
Mac OS X
Open Mac OS X Firewall
Click Apple Icon -> System Preferences -> Security
Click on the Firewall tab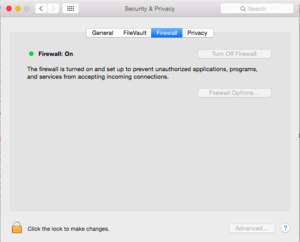 You may need to click the Lock icon in the bottom left-hand corner and enter your administrator password before changing the Firewall setting.
Manage Sites and incoming/outgoing connections
Click on Advanced to bring up a new menu
The Block all incoming connections option will block all incoming connections that are not basic Internet services. This means sharing services such as file sharing and iTunes music sharing. This is the recommended option for the ResComp network.
The Automatically allow signed software to receive incoming connections option will allow certain applications to make connections through the network. You can choose to add (+) or delete (-) which applications are allowed to do this as well as enable or disable connections these applications make.
The Enable stealth mode option will keep your computer from responding to any incoming test application connections from the network.